Huge potential of alage

"the fourth industrial revolution"
Seaweed (marine algae) is potentially a huge source of innovation and progress in the fields of nutrition and biotechnologies. Scientists and businesses throughout Europe are currently discovering (or rediscovering) this extraordinary natural raw material and developing new applications on a daily basis. By adapting the know-how of the Far East to European environmental conditions and species, Aleor has developed new production methods and techniques, and can provide you with the know-how and the raw material that will enable you to develop new products with an immediate competitive advantage. After land-based breeding and farming, then marine breeding, we are engaged in the fourth revolution, the seaweed farming revolution, based on quality, innovation, a service-oriented business culture and sustainable development.
Our vision
Aleor has a clear vision of the algae industry's near future. The fourth revolution, the seaweed farming revolution, will give us access to the full range of organic matter production methods. We can then truly implement the green revolution, which will enable mankind to produce all the resources we need for our well-being, while realizing their true value.
Integrated co-production models, biorefineries, energy-, food- and drinking water-producing marine platforms, reclaimed coastal fringes, fertilized deserts: all these future developments require ocean seaweed farming techniques to be perfected and developed throughout the world.
Open innovation, socially responsible, fair and circular economy
Aleor is developing seaweed producer networks, both in sea-based and landbased contexts, wherever the local marine environment meets the right conditions, in terms of water quality and biodiversity and where local aquaculture farmers are willing to take part. We work in partnership with local seashell farmers to develop seaweed farming on their shoreline concessions, along with their usual produce.
We contribute our expertise in plant breeding and farming techniques, then we process the seaweed produced according to Aleor's specifications, making sure that the producer receives a fair payment. Seaweed farming generates social progress for coastal communities. Sustainable development and traceability Algae grow without needing fertilizers, pesticides or even drinking water.
Aleor processes seaweed in very much the same spirit, minimizing the use of energy and inputs. Aleor is developing a raw materials production process for industry, with stringent quality controls and full traceability.
Sustainable development and traceability
Algae grow without needing fertilizers, pesticides or even drinking water.Aleor processes seaweed in very muchthe same spirit, minimizing the use of energyand inputs. Aleor is developinga raw materials production process for industry, with stringent quality controls and full traceability.
Organic products
The innovative process we have developed is pollution-free and fully compliant with "ORGANIC" farming principles, excluding the use of non biodegradable oxidants.
Preserving the algae's nutritional and organoleptic properties
Aleor has developed a ground-breaking dehydration process, with low temperature drying at 40°C. This preserves all the algae's nutritional and organoleptic properties. This type of drying process entirely preserves the macroalgae's nutritional value: fibres, minerals and proteins as well as vitamins (C, E, B12, B2, B3…). The antioxidant properties of the algal polyphenols and carotinoids are also better preserved than in the traditional direct flame oven-drying techniques.
Food algae ocean flavors, full of ocean goodness
Edible algae have long been part of the culinary traditions of coastal populations in China, Japan, Iceland….or Brittany, with the famous pioca or seaweed blancmange or as condiments. Even though algae are still only rarely used in France, they are slowly creeping into master chef cuisine. They can also be found in organic and dietary product stores as condiments, soups, tartar sauces, pasta, etc. New ocean-flavored products with Nori, Wakame, or Kombu can be introduced in oven-ready and other prepared dishes. A bit of imagination and a better knowledge of algae's benefits are all it takes to develop the market. Aleor provides edible algae either as fresh produce or as algae flakes.
 Our technical support service will help you find the solutions you need, i.e. a product, information on the product and guarantees about its quality, and help on how to use it.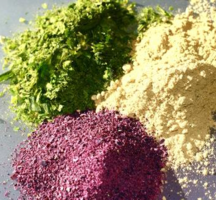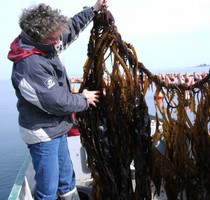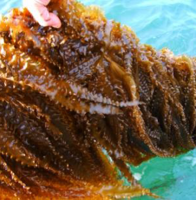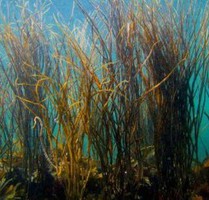 Applications second to none in nutrition and health, cosmetics, parapharmacy and pharmaceutical products
Our drying process represents a significant advance in the development of sound, nutritionally adapted and health-enhancing products, preserving all the algae's natural goodness. We can supply controlled dried raw matter with properties similar to those of fresh algae once rehydrated.
Moreover, the water contained in seaweed is very pure, entirely produced by the plant and exempt of contaminants. Natural algae water is an ideal medium for releasing high value-added nutrients, without the risk of negative interactions. Natural algae water is one of the key ingredients of Brit Inov's 2014 innovative product.
Our drying technology can be adapted to many other drying applications that require produce property preservation (e.g. in vegetables and other plants). Successful tests have been carried out on sea fennel (Crithmum maritimum), which is widely used in cosmetics. Such products can be very effective in the parapharmaceutical and pharmaceutical fields.
Responsible aquaculture or  bioremediation applied to intensive aquaculture effluent using macroalgae
Macroalgae such as Saccharina latissima and Alaria esculenta are used in integrated multi-trophic aquaculture. This type of aquaculture combines intensive fish farming techniques (for fish, shrimps, etc.) with species that extract dissolved inorganic matter such as algae and other species that extract organic matter particles, for instance, invertebrates such as mussels, oysters, sea urchins, etc. Through this approach, aquaculture can be developed while remaining committed to balanced ecosystem management. This kind of combined approach, which is still under study, will allow us to meet the ever-growing demand for environmentally farmed quality seafood products through a concept based on recycling and circular economy.
Marine energies
The WinSeaFuel project is part of the drive to develop marine energies, and is associated with the "offshore" wind farm project in northern France.