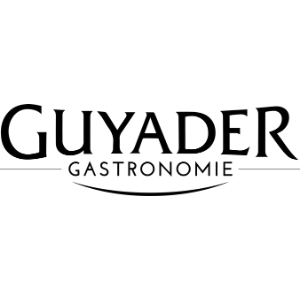 Our values and our charter

"A commitment to shared well-being"
Guyader is all about a family saga. In 1930, Jean Guyader founded the GUYADER salting factory in Landrévazec, near Quimper in the Finistère department. Since then, the business has been passed on to his children and then to his grandson, thus preserving the company's expertise and maintaining its unique attachment to the local area.
While the Guyader Gastronomie Group originally specialized in pork meat processing, in 1989, the company diversified into quality ready-made seafood products, snacks and smoked fish. Since then, Christian Guyader and Antoine Gorioux, his deputy CEO, have expanded the business in other European markets, including Germany, Belgium, Switzerland, Spain, Holland and Austria… . With its 430 staff and its 7 production sites, the company has embraced Brit Inov's values and implements them on a daily basis.
Improving everyday life
Guyader have for many years been committed to a philosophy of sustainable development in both our internal and external business operations. We see this as our contribution to societal and social progress. For the company, this is an ongoing commitment.
2000: an island adventure sustainable development
The creation of Groix & Nature in 2000 was the foundation stone of our commitment. What Groix & Nature stands for: preserving and reviving the traditional skills and expertise of the local canning industry, creating much-needed jobs on the island, generating added value for local raw materials, preserving and producingthe best that nature can offer: the produce of the sea.
Since 2005: the Food Bank – Helping out where it counts
The consumer society generates societal imbalances, particularly affecting the most vulnerable. Guyader believes that its food products should be made available to as many people as possible. Despite careful production planning, our forecasts can sometimes be off the mark, resulting in surplus stock. Guyader has chosen to donate all these surpluses, each week, to the local Quimper food bank, so they can go to families really in need. The company is aware that this will not solve the overall social problem, but in this way, it hopes to alleviate the worst of the difficulties for the most vulnerable.
2008: a regional logistics center to reduce our carbon footprint by 20%
Seven production sites mean a large number of trucks on the road every day, burning energy and using the local road network. Guyader decided to optimize its product flows to improve the quality of their impact on the environment and on the well-being of our customers. Our investment in the group's regional logistics platform in Trégourez has been a major step in that direction.
Since 2010: Ecodesign
Gradually optimizing all the components of our products and their packaging to minimize the amount of waste generated in end-users' "trash bins".
Preserving the area's environmental capital
According to Christian Guyader "Brittany is like a garden floating on the ocean. We were born into this garden, and we live and work there every day of our lives. This is where our values, our resources and our imagination are rooted. This biosystem nurtures our culture and our way of life, enriches our lives and defines our communal destiny. We are duty bound to ensure its long-term protection, to enrich it and to pass it on to all those who may choose to live here in coming years."
Ocean produce delicatessen: pleasure, quality, well-being
"Culinary innovation & nutritionnal balance"
Culinary innovation serving mankind and nature
Culinary innovation and gourmet cooking inspired by foods from around the world, coupled with a long-standing attachment to quality and nutritional balance, are our contribution towards the well-being of present and future generations, respectful of both mankind and the environment. This is why Guyader Gastronomie is positioned on the up-market segments of the hyper- and supermarket, retailer brand, catering and wholesale trades.
Seafood and delicatessen products
Innovative, imaginative dishes and quality, healthy, tasty food for festive occasions: this is what epitomizes Guyader's Product range. The company creates, improves and invents new recipes suited to new eating habits. Alongside the pork rillettes and seafood terrines, stuffed fish and tartares, Guyader has added a range of long-life "verrines" seafood appetisers, and a line of mini-cups and mini hot-pots for the micro-wave.
BIO organic range
All the organic recipes are prepared in keeping with the principles and philosophy of the Guyader Gastronomie Group: Preserving the best of nature, promoting natural flavours, achieving the best possible nutritional balance. Guyader Gastronomie's organic products are naturally good, nutritionally balanced, simple to use on a day-to-day basis and easily available. They provide a daily source of pleasure and endless surprises for the gourmet palate. Taste our full range of flavor-rich products:
Real fish "rillettes" (70% fish content minimum) with a hint of cream

organically-farmed salmon
Bretagne Bio trout
organically-farmed Irish salmon
Organic pork delicatessen. 
Smoked fish range – Top quality first and foremost from Breton fish farms and local off-shore fishermen
Smoked trout is one of Guyader's star products, accounting for half of its processed fish production. The company was awarded bronze medal at the 2011 Paris Agriculture Show and first prize in 2013 at the International Agricultural Exhibition. The prize was no coincidence: the exclusive, regular use of freshly-landed fish and sustained high quality are the result of working in close partnership with local fish farmers. 60 to 70% of the trout processed in Châteauneuf-du-Faou come from Breton fish farms that comply with fish-farming industry rules of good practice. Guyader also chooses to use local fishermen and selects certain species. Hake, sardines, and pollock are currently used in our dishes. Other species will soon be added to the range. The port where the fish was landed (Lorient, Douarnenez, Le Guilvinec…) and the name of the fishing vessel are given on each label. Fillets are processed in our smokery and salting factory.
A selection of products from the Guyader group…
Seafood and delicatessen products
Fish "rillettes" (spreads), crayfish terrines, smoked fish,
Smoked trout, salmon "parmentier"
Savoury cakes
Pork meat products
Terrines, hams
Cooked sausages
Preserves
Abalone spread,
Lobster spread
Scallop preserve
Soups
Oil of Lobster
A unique product awarded first prize for innovation at the SIAL 2012 food exhibition.