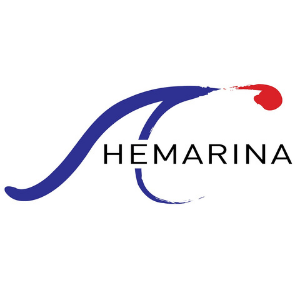 Marine Biothecnology
"A sand worm revolutionizing medecine"
Hemarina was founded in 2007 by Dr Franck Zal. The company's ground-breaking discovery is based on an unassuming but quite extraordinary little sand worm, the annelid or Arenicola marina, well known to beach fishermen. The worm lives buried in the intertidal sands and measures up to a dozen inches in length. Its habitat lies between the highest tidal reach for spring tides and the medium tidal reach at low tide. Franck Zal, a world authority on hemoglobin in marine invertebrates and their oxygen-transport system, decided to make use of the worm's specificities: the worm's circulatory system in fact uses an "oxygen store" between high and low tides.
It took Franck Zal 15 years of research and development and 18 patents to find how to extract the molecule, in order to offer ground-breaking products based on high-molecular-weight extracellular hemoglobin which functions over a wide range of temperatures (4°C to 37°C), independent of any cofactor.
Dr Franck Zal
Dr. Franck Zal, co-founder of HEMARINA, has built his scientific reputation on his expertise in the field of invertebrate Respiratory pigments. He obtained his doctorate in 1996 at Paris VI University for his work on the structure and function relationship of extracellular hemoglobin in annelids. He then continued his research with 3-years of post-doctoral work, first at the University of California, Santa Barbara (UCSB) for two years, then at the University of Antwerp in Belgium. He was awarded the French National Scientific Research Center's Bronze Medal in 2001.
Business models
Hemarina works on the principle of a vertical value chain, generating value for the company and its clients.
With its new marine farm in Noirmoutier, Hemarina also implements circular economy principles. Extraction side-products will thus be used as an aquaculture feed source and can also be used as fishing bait, as is traditionally the case with amateur beach fishermen.
Three types of products
HEMO2Life®
An oxygen carrier that allows better transplant organ preservation by oxygenating the transplant organ,
EMOXYcarrier® 
A universal oxygen carrier, directly derived from a particular form of extracellular hemoglobin. This type of hemoglobin is complePhoney autonomous: it binds oxygen from the environment and releases it to the organs in need without requiring any cofactors,
HEMO2Ling® 
An oxygenating dressing: an innovative and original therapeutic solution to treat chronic hypoxic wounds, which do not currently have any effective therapeutic solutions
For health sector companies
a universal oxygen carrier
Universal oxygen carrier
Emergency medicine is facing a big increase in demand for blood transfusions, particularly in acute anemic pathologies or acute hemorrhage syndromes following traumatic shocks.
HEMOXYcarrier® allows optimal oxygenation recovery without the adverse side effects (primarily vasoconstriction) caused by first generation Hemoglobin Based Oxygen Carriers — (HBOCs) —.Moreover, the molecule's superoxide dismutase activity reduces neurological damage in the immediate post-injury phase, with or without hemorrhage.
HEMOXYcarrier® is a breakthrough, in being made directly from extracellular hemoglobin that results from millions of years of evolutionary selection in marine organisms. This type of hemoglobin is complePhoney autonomous: it binds oxygen from the environment and releases it to the organs in need without requiring any cofactors.
The similar products currently available (HBOCs) are limited, as they are based on intracellular hemoglobin from vertebrates (bovine or human origin), chemically modified to function as extracellular hemoglobin. These products have significant negative side effects that restrict their use.
The immediate benefit of HEMOXYcarrier® is that it provides an oxygen carrier with no vasoconstrictive and hypertensive effects on the cardio-vascular system during drip feeding.
Graft preservation
Organ transplants have now become a major public health issue. Hemarina offers alternative, innovative solutions. According to Franck Zal, the annual number of transplant operations has known a regular increase (in France, it rose from 3,115 in 1998 to 4,580 in 2009, with nearly 30,000 operations in the USA) and nearly 250 patients died in France for want of organs in 2009 out of the 14,400 patients on the waiting list. In the USA, almost 100,000 patients are waiting for transplant operations.
HEMO2Life® is an oxygen carrier. It allows better organ preservation prior to transplantation by oxygenating the transplant organ.
After removal from the donor, the transplant organ undergoes a sharp reduction in blood flow (ischemic conditions), which can cause organ damage and dysfunction. Ischemic injuries can be a source of acute graft rejection and can accelerate chronic graft rejection. HEMO2Life® can be used as an adjunct to organ preservation solutions that allows transplant organ oxygenation and considerably minimizes the risk of rejection.
The main benefit of HEMO2Life® is the possibility of treating more patients waiting for organ transplants and better patient prognosis after the transplant. Preliminary tests have shown that preserving the transplant organ through improved oxygenation improves the organ's functional response and that the transplant success rate is therefore higher. By allowing longer organ preservation, HEMO2Life® can also help improve the medical organ allocation process.
Oxygenating dressing
Hypoxic and chronic wounds (diabetic foot ulcers, pressure ulcers, etc.) do not currently have any effective therapeutic solutions. Lack of oxygen impedes the healing process and cell growth in the affected area.
The HEMO2Ling® universal dressing is an innovative and original therapeutic solution to treat these kinds of wounds. The new dressing provides targeted oxygenation to the wound. 
HEMO2Ling® represents a breakthrough by providing a continuous oxygen supply to the wound through the addition of hemoglobin (M201) directly to the dressing matrix. M201 hemoglobins are universal oxygen carriers and are the products of HEMARINA's research on a family of extracellular hemoglobins found in marine organisms. These hemoglobins bind oxygen from the ambient air and gradually release it under hypoxic conditions (e.g. wound cells), thus initiating the healing process.
The immediate benefit, in the case of chronic and hypoxic wounds, is to provide a dressing that can ensure a continuous oxygen supply, thus avoiding the need for specialized oxygenation equipment such as hyperbar units to initiate cell proliferation and wound granulation.